Individual Sessions with Angie Payne
Have you suffered a loss or a traumatic event and are having a difficult time moving through it?
Have you felt that there is something hidden within that is stopping you from living the life you are meant to live?
Do you struggle with anxiety and fear?
Do you sometimes feel sad but have no idea why?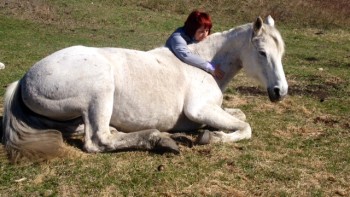 Private individual sessions with Angie Payne will incorporate the loving attention of an equine partner and a canine partner. A session begins outside of the round pen while the equine coach is a spectator from inside the round pen. Horses pick up things inside of us that often we don't realize in that moment. It is an exploratory process of energetic connection between our client, the human coach and the horse. Horses provide feedback and will do this from a great distance or from being up close and personal. The belief is that the answers lie within the client and we strive to facilitate the opening of a deeper relationship within you.
"It was a terrible place back then, and I was a little reluctant to go see Angie and the horses. I figured what the heck, nothing ventured nothing gained!! Well it turns out, I gained more than I could have imagined".
No previous horse experience is necessary and you will only experience the horse at the distance that you are comfortable and feel safe.
The Equine Gestalt Coaching Method® was developed by Melisa Pearce, a core founder since 1989, of the horse-human healing movement. The experiential nature of the method involves the horse as an active partner with the coach in the client's exploratory process. The integrative approach of the equine's interaction combined with positive coaching, somatic awareness guidance and Gestalt methodology, assists the client in examining their life and choices made with a focus on designing a positive future.
Life Transition Ceremonies
Horses are very connected to when people are in their truth and will facilitate deep contact between people who are in life transitions. These
ceremonies are done during the day, at dusk or under the stars! Ceremonies can be for blended families, marriages that have survived hard times and the couple have a desire to re-commit to each other, or grieving the loss of a loved one – human or animal.  These are beautiful ceremonies, non-traditional and extremely spiritual. We hold the ceremonies in nature, witnessed by animals and angels.
"Angie truly has a gift for helping people who have experienced loss or who are preparing for the death of a loved one, human or animal. My family had the misfortune to lose both our equine companions within one year and Angie helped us tremendously during that difficult time".