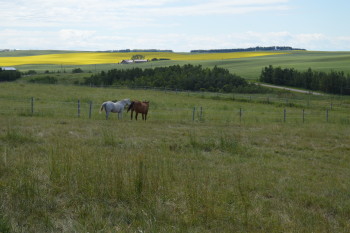 Equine Enrichment is proud to be working at Rafter U7 Ranch.
During the time at the ranch you may be serenaded by the distant singing of our resident coyotes, protected from above by an eagle or a hawk, gently kissed by one of our loving canine pack and nuzzled lovingly by one of our equine healing team.  Whatever your experience, you will be surrounded by love and safety to explore that within you that holds you back from living the life you are meant to live.
We are located 45 minutes north of Calgary, AB and offer many different ways to discover your inner truth!
We offer various forms of  individual sessions, workshops, support groups and life transition ceremonies.
For more information on upcoming events, contact Angie Payne at 403-999-3314.